Art Collection
Back
Julije Knifer (1924 - 2004)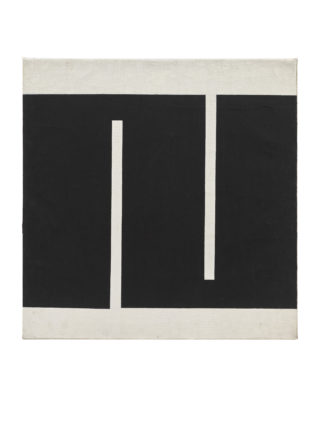 Untitled, 1960/1961
Oil on Canvas, 64 x 62.5 cm
Julije Knifer is largely recognised today as one of the most prominent Croatian painters of the 20th Century. He studied painting at the Academy of Art in Zagreb in the early 1950s. In 1960 he co-founded the Croatian avant-garde group Gorgona. This artists' collective was internationally focused both in its core practice and in its ethos. Archival material from the group shows regular exchanges between the Croatian Gorgona artists and their international contemporaries, including Lucio Fontana, Robert Rauschenberg and Piero Manzoni.
Knifer's works are centred primarily around one formal, visual element – the meander. It is a motif that has been used since antiquity and in iconography it represents the eternal flow of life. Knifer used the right-angled ornamental band in various ways and worked with many different techniques. At first, he used the motif exclusively in black and white, and subsequently began to use colour. For Knifer, the meander, as a motif, resulted from a fundamental reduction of all expressive elements; it was, for him, the key to a world in which there was no chronology at all. As a result, it was also a way for him to create images that went beyond their singular self and became part of a group of works that he continued to paint until the very last days of life. Almost his entire artistic output was dedicated to this one visual theme. He captured the timelessness and repetitive nature of one of the purest, simplest forms and it is from this feature that the peace and beauty of his works emerge.
The present work shows a similar black meander on an almost square, white pictorial support. It is one of Knifer's early works, dated 1960, which makes it one of the first in which he deals with the meandering motif. Shortly after the painting was created, Julije Knifer left his native Croatia to go to Paris. According to the artist's Estate, Knifer took the present painting with him in his luggage. It remained in the artist's possession and was framed only later by his daughter Ana Knifer. This makes the small painting a very special work in the oeuvre of Julije Knifer.
In 2001, Julije Knifer represented Croatia at the Venice Biennale, and in 2014 the Museum of Contemporary Art in Zagreb presented a retrospective of his work. His paintings can also be found in private and public collections around the world, including the MOMA in New York and the National Gallery in Berlin.